Jury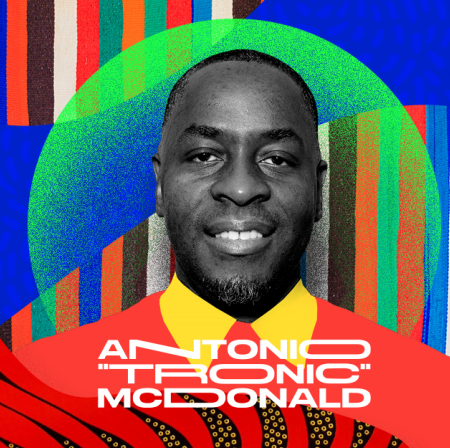 Antonio "Tronic" McDonald
Executive Producer/live-action director
KUAMP Inc.
Antonio "Tronic" McDonald is the Executive Producer/live-action director of KUAMP Inc. Envisioning an exceptional corporation adept at bestowing stimulating and thought- provoking images, he promptly embarked on a daunting task: raising society's existing expectation of urban mediocrity in the media to an unsurpassable reign of metropolitan distinction. Antonio has been a director/producer/writer in the creative/marketing/production world for over 20 years. Employed by MTV Networks from 2001 - 2008, Antonio began his career as a Director/Producer/Writer/Editor in the world-renowned On-Air Promotions Department. Accolades to his portfolio include: numerous award -winning image campaigns for MTV, MTV2, Virgin Mobile, Lipton Iced Tea Brisk (PepsiCo.), Sprite, Nike Basketball, Sean John Fragrances, Adidas and Champs Sports co-branding efforts, MTV Video Music Awards host spots (featuring Diddy), Paramount studio campaign trailers. Several original, premium IP, digital episodic series for Vevo.com - "Stylized," "Travelism," "24 in 7", "Fly By," and "Represent." BET Networks original V.O.D content (featuring the Hip Hop Awards), a documentary for Heineken International, and a Characters Welcome spot for USA Network, sponsored by Yum! Brands. A popular directorial undertaking includes: a four part branded - entertainment series for Procter & Gamble's Pantene and BET networks. Digitally, Tronic spearheaded NBRHD.com a truly 360-degree lifestyle network that was the destination for 14 to 30 something metropolitan teens and adults. The NBRHD Network, housed the perfect balance of web culture where original premium content, influencer talent, and blog culture live together in tandem offering all of the content the audience needs for a one stop surf experience. Antonio has worked on numerous episodic web series, branded content, music videos, short films and commercial shoots. A highlight in his, portfolio, is his co-production contribution to the creative team of Kanye West's music video "Through the Wire," winner of the 2004 Source Awards. Tronic has recently directed and executive produced a national, celebrity- driven, social awareness campaign for F- Cancer around colon cancer. He has served as Executive Producer for Byron Allen's "TheGrio" where he restructured their video department and subsequently nominated for a Webby. Most recently, he directed and led creative on a campaign for HP; As well as Moms of Black Boys United, that featured Tyler Gordon, a teen prodigy painter. Antonio has an unequivocal and profound knowledge of the highly profitable demographic: consumers ranging from the ages of 18 to 34.